The Kent Heritage Resource Centre at Smarden

A new resource Centre for regional heritage groups has been established at Smarden as a result of a partnership agreement between Smarden Local History Society and Kent Archaeological Society.
Under the partnership, the two organisations are working together to provide practical help and guidance to local history societies, museums, schools and private individuals on archive management, preservation and digitisation at a new Kent Heritage Resource Centre at The Charter Hall in Smarden.
The facility features a state-of-the-art archival camera capable of producing high-output, high-definition images of, for example, documents, bound volumes, artefacts, photographs, slides, and maps up to A2 size, linked to specially developed indexing and cataloguing software.
The Centre has been formed in answer to a problem faced by many heritage organisations, that of uncatalogued, and often unseen, archival collections with no back-up, which makes them vulnerable to accidental loss and inaccessible to people who might otherwise wish to study them.
The Centre offers expert advice on archival techniques and provides options for users to carry out digitisation projects, with Resource Centre assistance where necessary. The Centre also offers a data storage service for organisations seeking to back-up archives off-site. All Centre facilities are available at nominal cost to users at The Smarden Charter Hall two days a week and at other times by prior arrangement.
The Centre operates as a not-for-profit voluntary organisation, established with the help of grant funding by Kent Archaeological Society, Smarden Local History Society, Kent County Council, Ashford Borough Council and with the support of The Trustees of Smarden Charter Hall.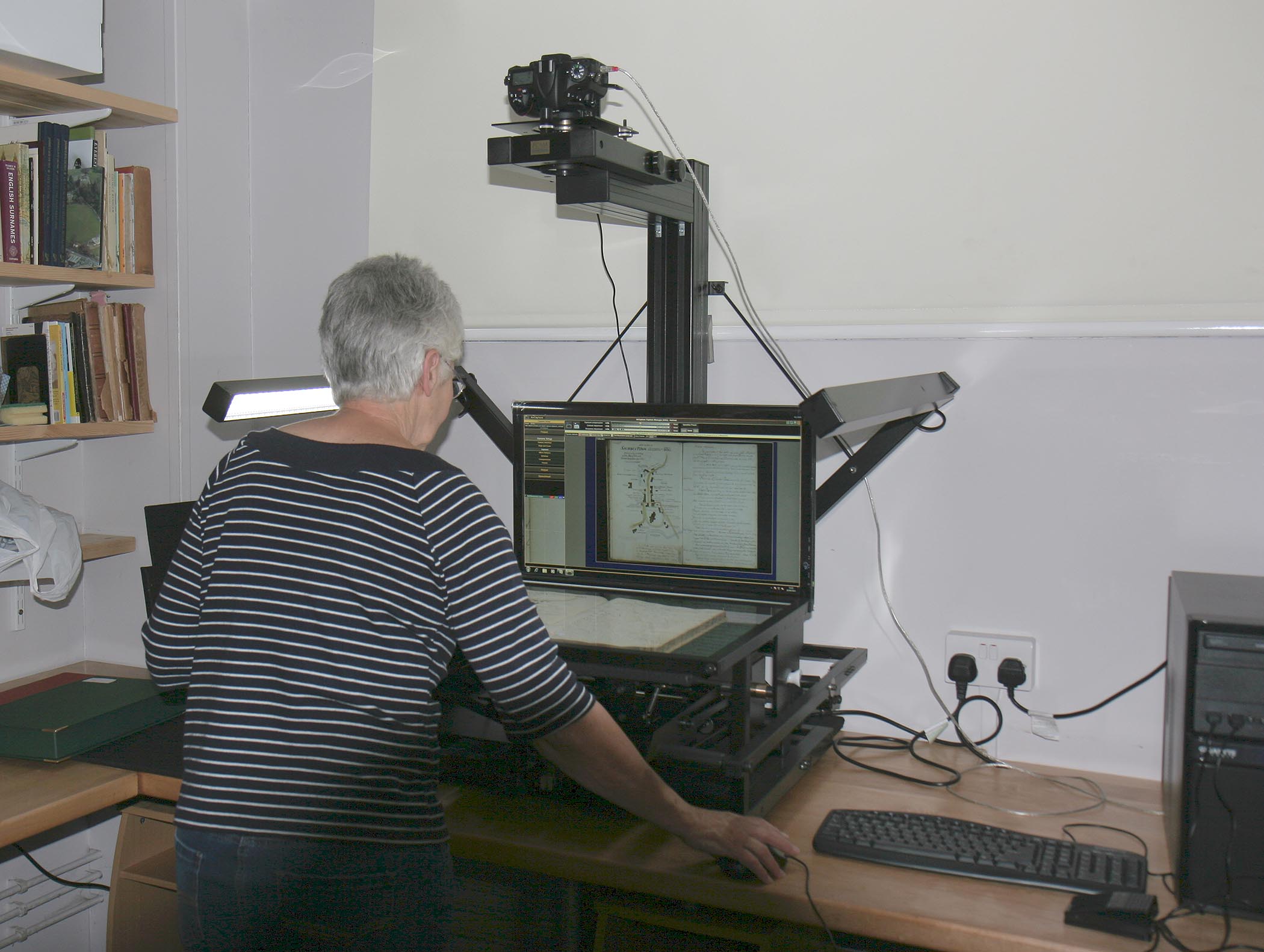 The archival camera in use at The Kent Heritage Resource Centre
+++++++++++++++++++++++++++++++++++++++++++++++++++++++++++++++++++++++++++++++++++++++++++++++++++++

PROGRAMME OF SPEAKERS AND EVENTS
2017


Thursday 16 February
'Post Haste to Smarden' by Alex Ferris
The 150 year history of the Mail service to Smarden
Thursday 16 March 'Old Kent Windmills' by Andrew Wood
Thursday 20 April 'Leeds Castle' by Dr Ann Kneif
Thursday 18 May 'Antique Clocks – a history of English clock making' by Professor E A Parker
Thursday 15 June ' Ightham Mote' by Ray Shayler
Saturday 22 July 'A visit to Ightham Mote' £14. NT members £4. Both + transport.
Thursday 21 September 'Along the route of the Royal Military Canal' by Brian Doorne
Thursday 19 October 'Inn Signs' by Eric Spear
Thursday 16 November 7.30pm AGM. Followed by 'Ernie Wheatley a true Smardonian' by Margaret Wheatley
December – No meeting
Talks start at 8pm in Smarden Charter Hall. Wine, teas and coffees are served from 7 pm onwards.
Membership is £10 per year. Visitors are very welcome: £4
Research and Heritage Centre facilities are open on Friday mornings in the Dadson Room at The Charter Hall from 9:30 am until 11:30 am or otherwise by appointment.