SMARDEN HISTORY ON YOUTUBE
You can now view a series of films and documents on line. Go to the SMARDEN HISTORY channel on YouTube for films about Smarden in WW2, Sella Martin (a freed slave who preached here in 1863), The Plague Doctor, the Story of Smarden Shops with more being added all the time.
We are also placing on-line selected documents and images from our archive. The first items are The Life of Halford Mills, our local historian, and the Story of Smarden Institute, with much more to be added soon. Here is the link for this
SMARDEN HISTORY - Google Drive
THE 2020 SLHS TALKS PROGRAMME
We are currently closed for meetings and talks until further notice
SEPT 17 MARTIN CROWTHER On the 400th anniversary of the voyage of Mayflower: Founding America
OCT 15 PETER EWART Researching your House History
NOV 19 MALCOLM HORTON Cuthbert Ottaway: The life of England's Dover-born first football captain
ALL MEETINGS START AT 7:30 PM AT THE CHARTER HALL
JOIN US FOR A DRINK AND A CHAT FROM 6:45 PM
The Kent Heritage Resource Centre at Smarden

A new resource Centre for regional heritage groups has been established at Smarden as a result of a partnership agreement between Smarden Local History Society and Kent Archaeological Society.
Under the partnership, the two organisations are working together to provide practical help and guidance to local history societies, museums, schools and private individuals on archive management, preservation and digitisation at a new Kent Heritage Resource Centre at The Charter Hall in Smarden.
The facility features a state-of-the-art archival camera capable of producing high-output, high-definition images of, for example, documents, bound volumes, artefacts, photographs, slides, and maps up to A2 size, linked to specially developed indexing and cataloguing software.
The Centre has been formed in answer to a problem faced by many heritage organisations, that of uncatalogued, and often unseen, archival collections with no back-up, which makes them vulnerable to accidental loss and inaccessible to people who might otherwise wish to study them.
The Centre offers expert advice on archival techniques and provides options for users to carry out digitisation projects, with Resource Centre assistance where necessary. The Centre also offers a data storage service for organisations seeking to back-up archives off-site. All Centre facilities are available at nominal cost to users at The Smarden Charter Hall two days a week and at other times by prior arrangement.
The Centre operates as a not-for-profit voluntary organisation, established with the help of grant funding by Kent Archaeological Society, Smarden Local History Society, Kent County Council, Ashford Borough Council and with the support of The Trustees of Smarden Charter Hall.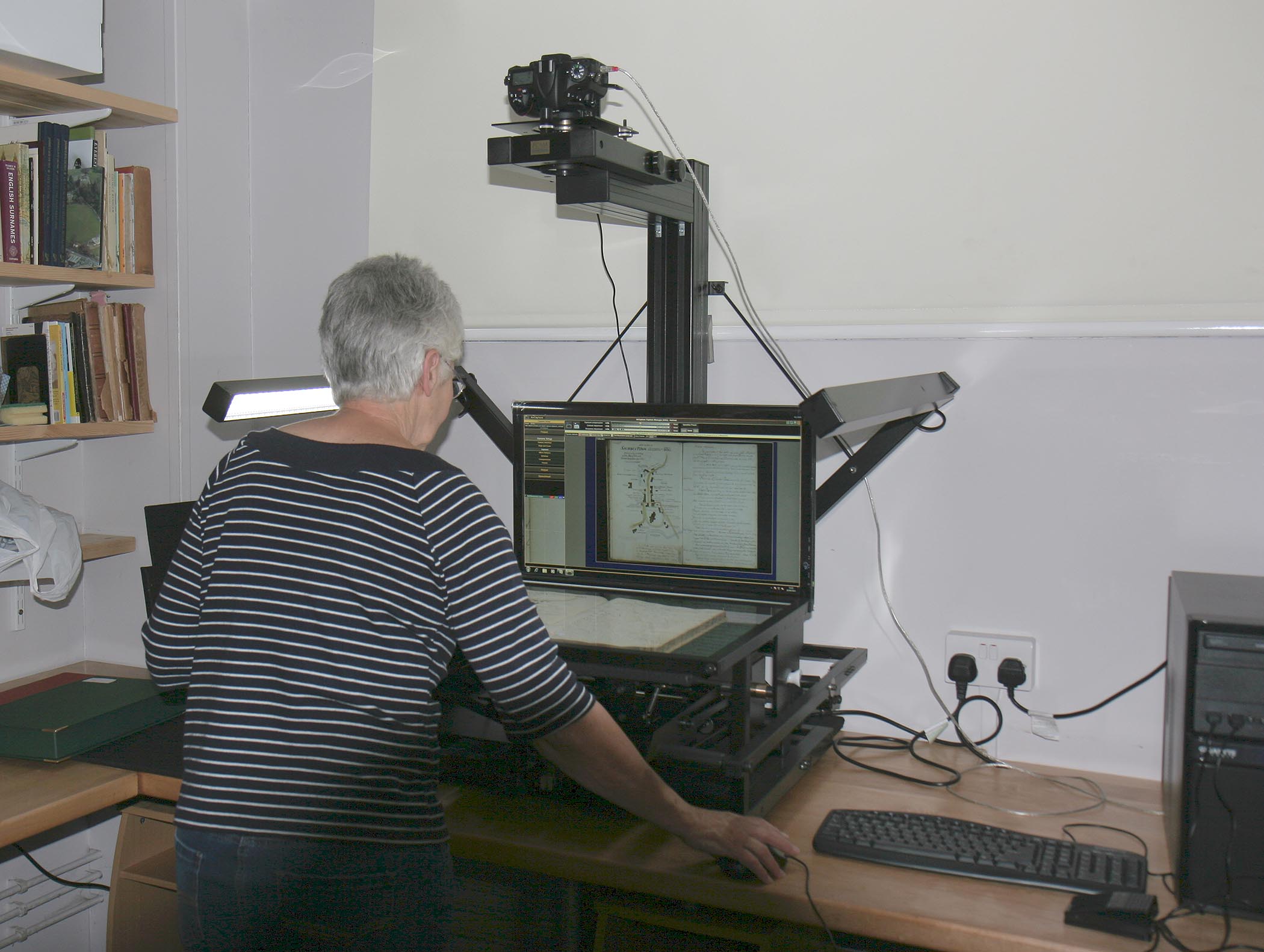 The archival camera in use at The Kent Heritage Resource Centre
+++++++++++++++++++++++++++++++++++++++++++++++++++++++++++++++++++++++++++++++++++++++++++++++++++++